If you've got it flaunt it...
Or buy it, same thing. So you said "Oh hell yes" to the guy, now it's time to say yes to the dress... and no I'm not talking about the wedding gown. Being engaged means lots of fun, festivities, & lots of parties. Which means a lot of all white outfits for the bride to be. We love an all white 'fit any day, but there's no better excuse than being engaged to rock your milky attire. Here is your style guide to the perfect white outfits for all your bridal parties. From edgy to conservative we have all of our girls covered. I'm partial to a few of the brands I've been shopping since college, so don't you worry we kept everything under $200 for you.
Conservative:
A longer hemline, a high neck or a sleeve can often give off a more conservative vibe. This is perfect for an engagement party. Your parents, his parents, and most likely grandparents will attend this event, so make sure to keep it classy. There's plenty of time to wear some shorter, tighter numbers at your other bridal parties.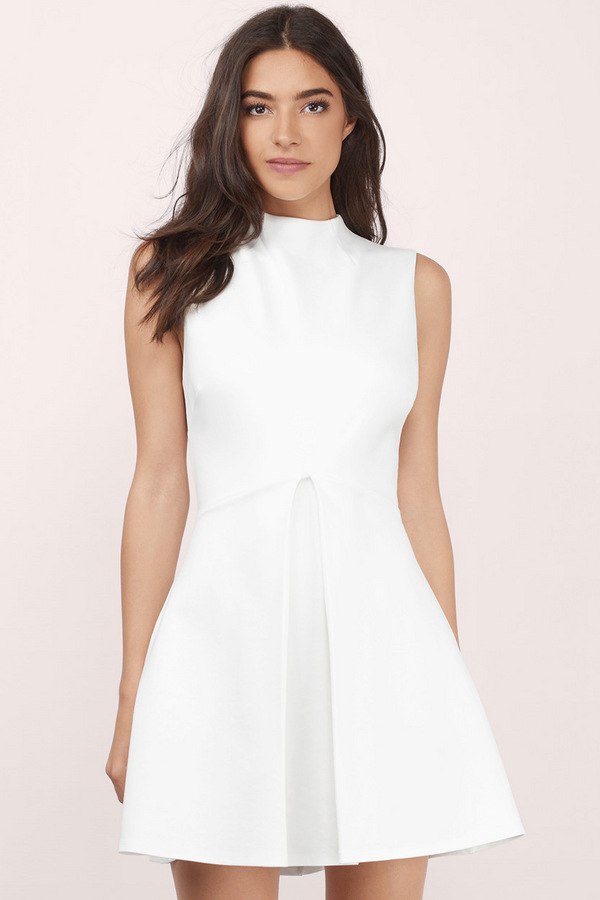 Maxi:
A maxi dress can work for almost any of your parties, but I think these are best for your bridal shower. In this full length gown, you'll be feeling like a bride in no time! If you are having a more casual or bohemian style wedding, a maxi dress will have your guests feeling your theme before the big day.
Jumpsuits & Rompers:
Get realll! There is nothing more chic than a jumpsuit. Especially a white jumpsuit. No need to wear a dress to all of your events. This look will make you feel girly while still giving you room for activities that a dress just doesn't provide. Try a romper or jumpsuit to spice up your wedding wardrobe.
Show Your Curves:
These dresses scream bachelorette party! Crop tops, body con, and some peek a boo cut outs are perfect for your last hurrah! Show a little skin and dress to impress your squad in these sexy dresses. Boys you can look, but don't touch. #engaged
Knee Length:
A knee length dress doesn't have to mean covering up. These dresses add a little sex appeal to the classic knee length hemline. A slit in the from or open back can create a beautiful silhouette that will fit any and all of your bridal parties.
Versatile:
Go for the wild card. Wear something off white or something with a high neckline. These are the kind of dresses that you can buy now and continue to wear after the wedding buzz is over. In all honesty, I loved all these dresses and couldn't figure out how to group them in a way that made sense. All of these dresses are amazing so I had to have them on the blog! Take your pick, you really can't lose here.
All of these dresses can be found at Tobi, Necessary Clothing, Nordstrom, or Lulus.
Thank me later.