Welcome To The Bride Tribe
Just when you thought picking out your wedding gown was tough, now you have to make sure your girls look their best while standing by your side. There are so many options and it is hard to pick just one. So don't! There is no right or wrong way to dress your bridesmaids, but here are a few of our favorites and alternatives for some of our more out of the box brides.
Mismatched Dresses:
This is the best idea to make your girls feel like a group of individuals. Giving each girl their own pattern or color makes them feel unique. Before giving your girls the go ahead on buying a dress make sure all of the dresses fit well together and match the color palette of the wedding.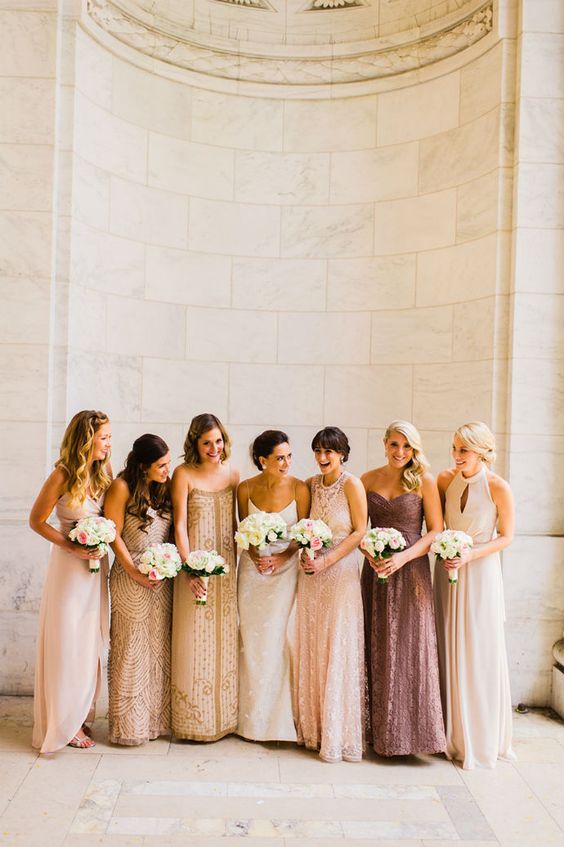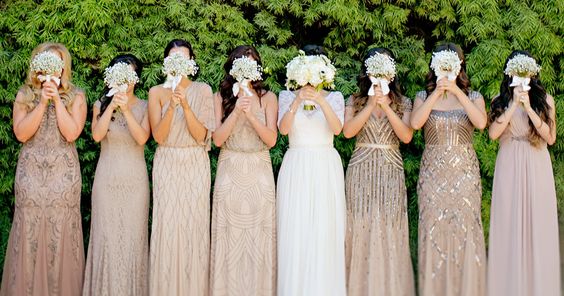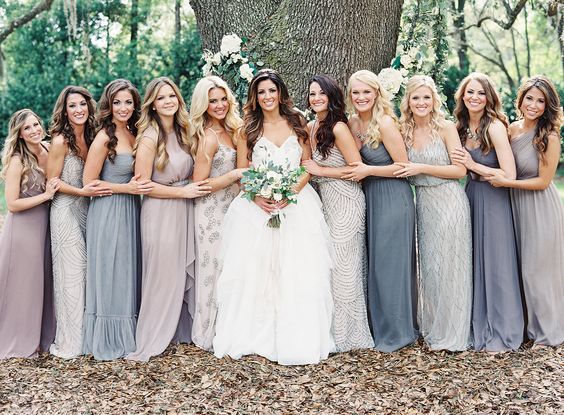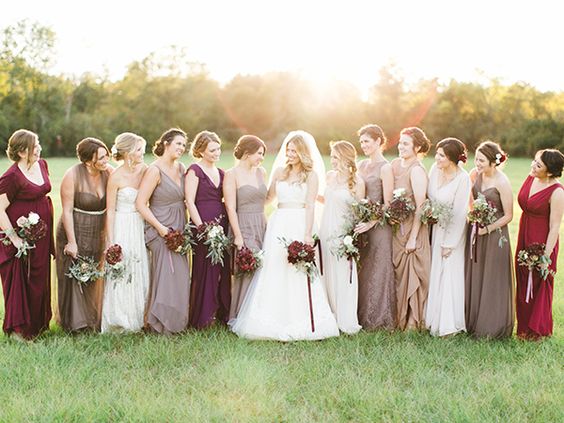 Skirts:
Are you an informal bride? If casual is more your style, no need to feel stuffy in a formal gown. Have your girls wear stripes for a preppy vibe or sparkles to make your ladies stand out.
Maxi Skirts:
Another awesome way to rock a skirt at a wedding. This is slightly more formal than the short skirt option but still gives off a more casual vibe. Pair the maxi skirt with a t shirt top or something more structured like a lined corset top.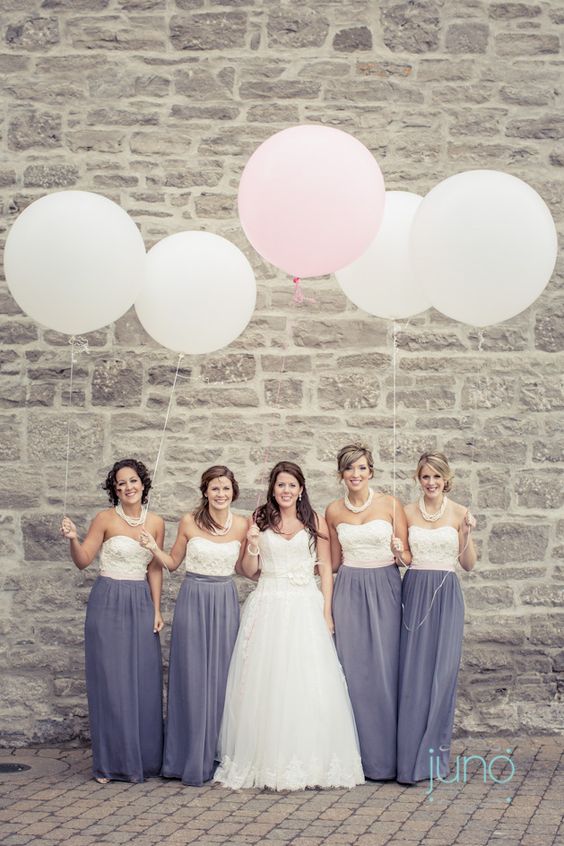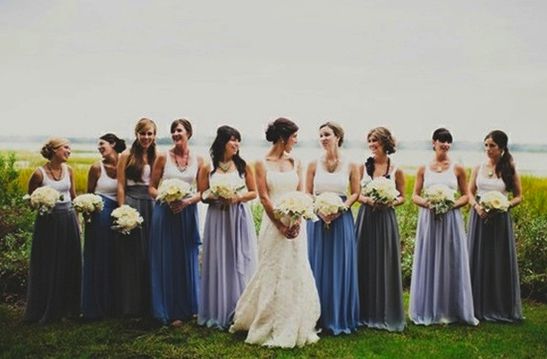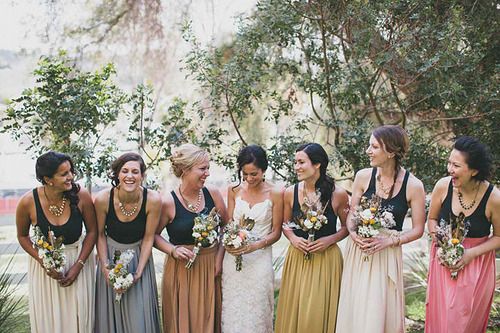 Jackets and Shrugs:
I am in love with this trend. Adding a jacket or a shrug can totally change the vibe of a bridesmaids dress. The jackets can be taken on and off throughout the night so they are not a huge commitment. In the winter have your girls wear a fur shrug to keep them warm, or add a a leather jacket to turn your tribe into a group of biker bad asses. Adding this simple element will make for great photos that are sure to be pinned all over Pinterest.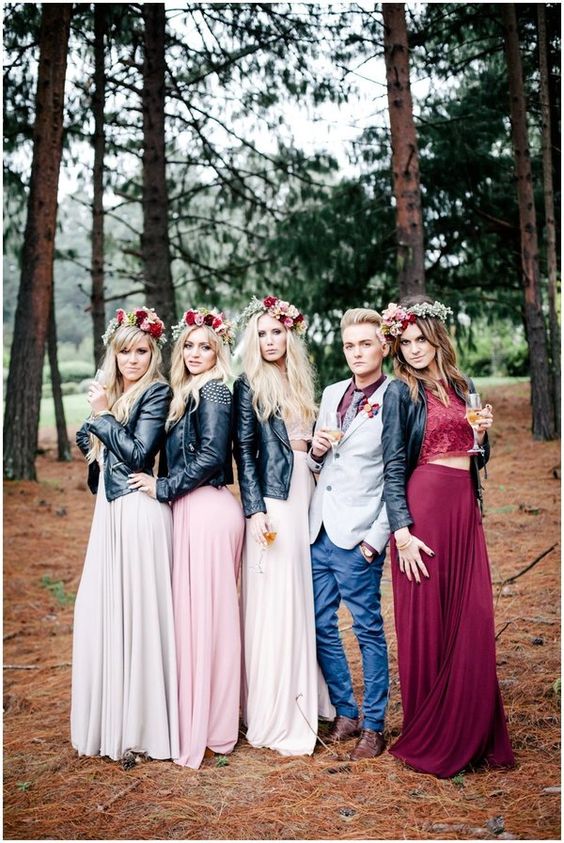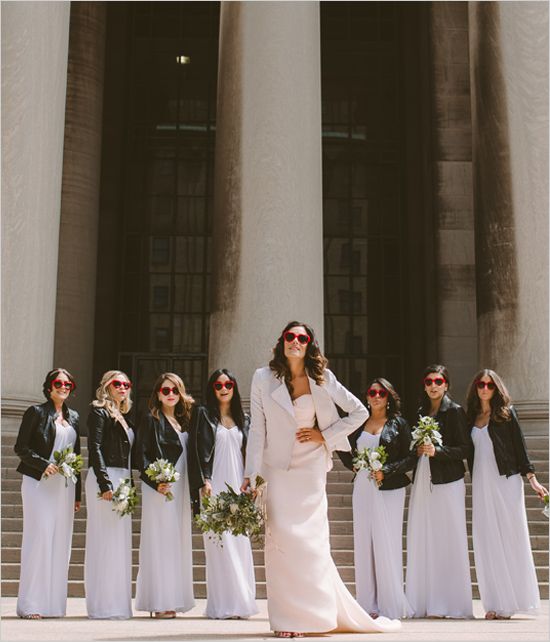 Same Dress, Different Neckline:
This was the trend I saw everywhere last wedding season and it just works. Its a new spin on the old tradition of all your bridesmaids wearing the each same dress. You can pic the dress color and the fabric and then let your girls pick the best neckline for their body type. Some girls may look best in a halter top and some may be busty and opt out of a strapless. This gives your girls the option to customize how they will look on your wedding day. By going with this trend you are being a really really good friend.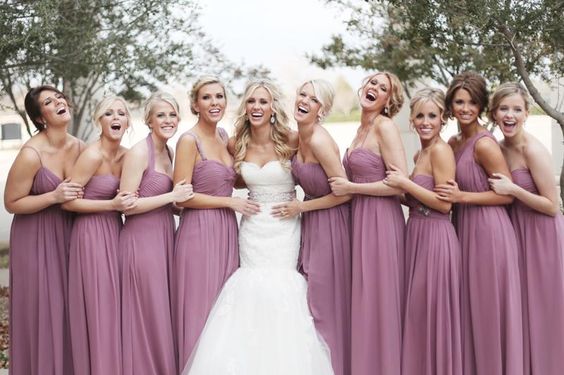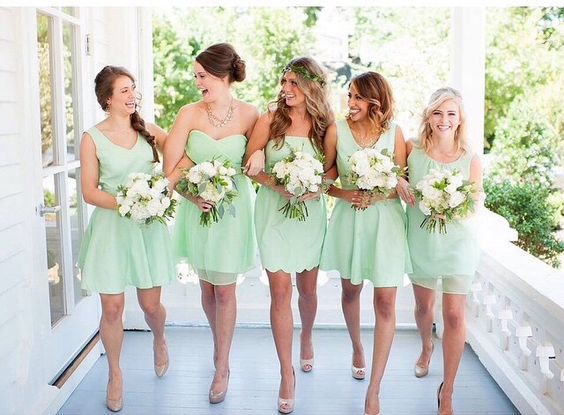 Patterns:
Typically bridesmaids dresses are one solid color. Break the mold and go with a bold pattern. Floral prints are an amazing option for spring and summer weddings. Polka dots, stripes, whatever your little heart desires. This is also another way to follow the mismatched dress trend and have your girls wear complimenting patterns.
Denim:
Because life is too short to feel uncomfortable. Denim is becoming a great new alternative for the rustic or country bride. You can use denim in the form of a button down chambray top, a denim dress, or a jean jacket. Pair them with cowboy boots for full country glam. If your a lover of a good pair of jeans, stay true to yourself with this look.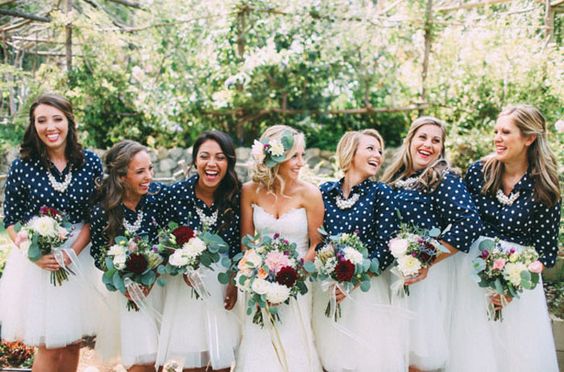 Jumpsuits & Rompers:
This is my favorite new trend. For a bride who wants a completely different look on their wedding day, dress your girls in a jumpsuit or romper. This look can be very bohemian like these kick ass girls in coral or incredibly chic like the ladies in white. Rompers can also be a cute outfit for you all to get ready in before the wedding. I am absolutely obsessed with this trend and I hope to see more of it this season.